Our Huizhou and Shanghai plants are modern, flexible workspaces which provide significant production capabilities; thus enabling us to manufacture high volumes with short lead times. Both facilities have adopted Total Quality Management and are ISO9001:2000 certified. The Shanghai factory and HuiZhou factory has recently obtained the TS16949 certification; pre-requisite qualification to manufacture fasteners for automotive industry. Our HuiZhou factory has also received the QC080000 accreditaion for Hazardos Substance Process Management.
The Group also has the capacity to manufacture complex multi-stage fasteners which require a high degree of precision engineering. Compliant with international standards such as ANSI, JIS and DIN (American, Japanese and German standards respectively), Superior Fastening Technology's manufacturing system is also linked to an Electronic Resource Planning system which ensures the efficient flow of information throughout the various stages of our manufacturing process.
Our product types include:
Machine Screws
Rivets & Nuts
Self-Tapping Screws
Washers
Sems Screws
Special Screws & Multi-Formed Shafts
Hexagon Head & Socket Screws
Patched Screws

Fasteners
The fasteners are manufactured to customer's specifications in accordance with international standards and are differentiated by size, thread types, head types, drive insert type and material. We have the capability to produce fasteners ranging from M0.8 to M15 in diameter from customer-specified grades of carbon steel, stainless steel, copper and aluminum.
Superior Fastening is constantly engaging in new technologies and the fastener division is equipped with approximately 200 up- to- date cold-forming machines. We have invested millions of dollars in new heading and threading capabilities to upgrade our efficiency and increase our capacity. The current production capacity is around 500 million fasteners per month or 6 billion pieces per year.
Surface Treatment
Fasteners and metal parts need to undergo surface treatment in order to increase its resistance to corrosion.

Depending on customers' specifications and requirements, our surface treatment capabilities include electroplating which uses a variety of plating material such as nickel, copper and chromate, as well as the environmentally-friendly and increasingly popular trivalent chromate plating technique. Our production complies with the strict European RoHS (2002/95/EC) directive on the use of hazardous substances.
The surface treatment capability is provide by over 40 electro-plating machines, in both production facilities, which are capable of 4,500 tonnes of plating per annum.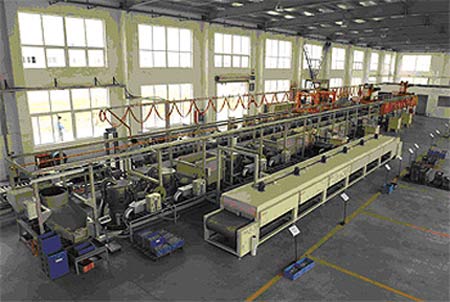 [Electorplating Photos]
Heat Treatment
Our newly-acquired heat treatment facilities in the Huizhou plant enable Superior Fastening to be a truly integrated, one-stop manufacturer of quality fasteners for the global market, thus significantly increasing our turnaround time, quality and service provided to our customers. This is a distinct competitive advantage that differentiates us from most other manufacturers. When Phase 1 of the new Shanghai facility is completed, heat treatment will also be available.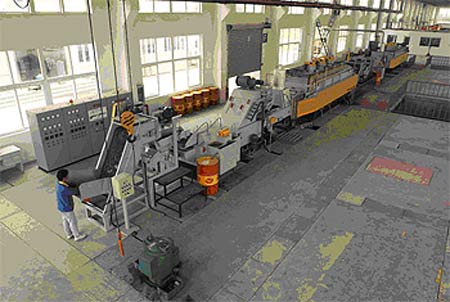 [Heat Treatment Photo]